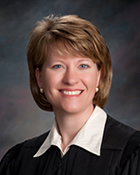 Judge Beth W. Cappelli has been serving as judge of the Fairborn Municipal Court since January 1, 2008. Prior to being judge, she served as the magistrate of the Fairborn Municipal Court for 12 years.
Judge Cappelli was raised in Fairborn, graduating from Fairborn High School in 1985 as valedictorian. In 1989, she received her Bachelor of Arts degree from Miami University and graduated from The Ohio State University College of Law in 1992 with her Juris Doctor degree. While at The Ohio State University College of Law she received The American Jurisprudence Award in Ethics. After being admitted to the bar in November, 1992, she practiced law in Beavercreek, Ohio, until she became magistrate at Fairborn Municipal Court. She is also admitted to practice in the United States District Court for the Southern District of Ohio. In 2015, she was inducted into the Fairborn High School Hall of Honor.
Judge Cappelli currently serves on The Ohio State Supreme Court Judicial College Planning Committee for Continuing Education for Municipal Court Acting Judges. She also serves as co-chair of The Magistrate Committee for The Ohio Judicial Conference and serves on the Executive Committee of The Ohio Judicial Conference. She is the immediate past President of The Association of Ohio Municipal/County Courts. In 2012, she was appointed to the Advisory Committee on Court Security for The Supreme Court of Ohio. In 2008, Judge Cappelli received the Judicial Award from The Ohio Association of Magistrates. She is also a member of The Ohio Bar Association and The Greene County Bar Association.
Since sitting on the bench as judge she has implemented The Traffic Intervention Program (TIP) which has resulted in a tremendous success rate of defendants obtaining a valid drivers license and insurance. She has also implemented an internship program for college students to learn firsthand the judicial system.
Judge Cappelli remains active in the community. She serves as a member of the Beavercreek Rotary Club, Beavercreek Chamber of Commerce, and the Fairborn Chamber of Commerce. In the past she has served as a Girl Scout leader and served on the Board for The Greene County Domestic Violence Project nka Greene County Family Violence Prevention Center.